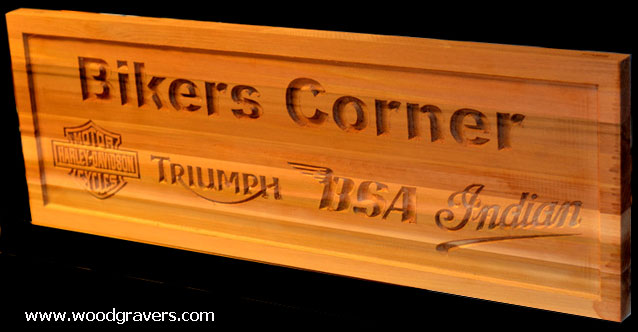 Laser-engraved Western Red Cedar
Hundreds of sign-makers around the United States have been using Perfect Plank sign blanks for more than 15 years. These high quality blanks are manufactured from carefully selected Western Red Cedar and are designed for carving, laser engraving and sand-blasting.
The blanks are made by gluing full-length strips (1.4" wide) of clear cedar into plank of the desired length. The result is a highly stable and homogeneous plank with no finger joints! Perfect Plank sign blanks are laminated with waterproof resorcinol glue. One face is of sign quality, sanded with 80 grit paper. Reverse side may contain defects.
Available in a wide variety of standard sizes in thicknesses of 1 1/4", 1 1/2", 1 3/4",2", and 3". Not all sizes are always available in all thicknesses and lengths.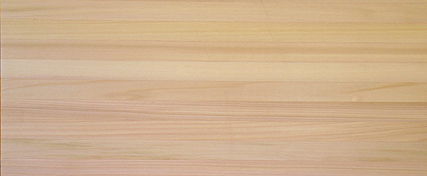 Perfect Plank Western Red Cedar Sign Blank
Cedar Sign Blanks--1 1/4" Thick
| | | | | | | | | |
| --- | --- | --- | --- | --- | --- | --- | --- | --- |
| 1.25" | 35" | 47" | 59" | 71" | 83" | 95" | 119" | 143" |
| 22 in | $61 | $81 | $102 | $123 | $143 | $164 | $228 | $301 |
| 24 in | $70 | $94 | $118 | $142 | $166 | $190 | $248 | $328 |
| 27 in | $79 | $106 | $133 | $160 | $187 | $214 | $279 | $369 |
| 30 in | $88 | $118 | $148 | $178 | $208 | $238 | $310 | $410 |
| 33 in | $97 | $130 | $163 | $196 | $229 | $262 | $341 | $451 |
| 36 in | $105 | $141 | $177 | $213 | $249 | $285 | $372 | $492 |
| 39 in | NA | $160 | $200 | $241 | $281 | $322 | $403 | $533 |
| 42 in | NA | $172 | $216 | $259 | $303 | $347 | $434 | $574 |
| 45 in | NA | $184 | $231 | $278 | $325 | $372 | $465 | $615 |
| 48 in | NA | $196 | $246 | $296 | $346 | $396 | $496 | $656 |
| 54 in | NA | NA | NA | NA | NA | NA | NA | NA |
| 60 in | NA | NA | NA | NA | NA | NA | NA | NA |
| 66 in | NA | NA | NA | NA | NA | NA | NA | NA |
| 72 in | NA | NA | NA | NA | NA | NA | NA | NA |
Cedar Sign Blanks-- 1 1/2" Thick
| | | | | | | | | |
| --- | --- | --- | --- | --- | --- | --- | --- | --- |
| 1.5" | 35" | 47" | 59" | 71" | 83" | 95" | 119" | 143" |
| 22 in | $73 | $97 | $122 | $147 | $172 | $196 | $273 | $361 |
| 24 in | $84 | $113 | $142 | $171 | $200 | $228 | $298 | $394 |
| 27 in | $95 | $127 | $160 | $192 | $225 | $257 | $335 | $443 |
| 30 in | $105 | $141 | $177 | $213 | $249 | $285 | $372 | $492 |
| 33 in | $116 | $156 | $195 | $235 | $274 | $314 | $410 | $541 |
| 36 in | $126 | $170 | $213 | $256 | $299 | $342 | $447 | $590 |
| 39 in | NA | $191 | $240 | $289 | $338 | $386 | $484 | $640 |
| 42 in | NA | $206 | $259 | $311 | $364 | $416 | $521 | $689 |
| 45 in | NA | $221 | $277 | $333 | $390 | $446 | $558 | $738 |
| 48 in | NA | $235 | $295 | $355 | $415 | $475 | $595 | $787 |
| 54 in | NA | NA | $457 | $525 | $592 | $660 | $862 | $1,010 |
| 60 in | NA | NA | $494 | $569 | $644 | $719 | $944 | $1,109 |
| 66 in | NA | NA | NA | NA | NA | NA | NA | NA |
| 72 in | NA | NA | NA | NA | NA | NA | NA | NA |
Cedar Sign Blanks--1 3/4" Thick
| | | | | | | | | |
| --- | --- | --- | --- | --- | --- | --- | --- | --- |
| 1.75" | 35" | 47" | 59" | 71" | 83" | 95" | 119" | 143" |
| 22 in | $85 | $114 | $142 | $171 | $200 | $229 | $319 | $421 |
| 24 in | $98 | $132 | $166 | $199 | $233 | $266 | $348 | $459 |
| 27 in | $111 | $149 | $186 | $224 | $262 | $300 | $391 | $517 |
| 30 in | $123 | $165 | $207 | $249 | $291 | $333 | $434 | $574 |
| 33 in | $135 | $181 | $228 | $274 | $320 | $366 | $478 | $631 |
| 36 in | $147 | $198 | $248 | $299 | $349 | $399 | $521 | $689 |
| 39 in | NA | $223 | $280 | $337 | $394 | $451 | $565 | $746 |
| 42 in | NA | $240 | $302 | $363 | $424 | $485 | $608 | $803 |
| 45 in | NA | $258 | $323 | $389 | $454 | $520 | $651 | $861 |
| 48 in | NA | $275 | $345 | $415 | $485 | $555 | $695 | $918 |
| 54 in | NA | NA | $513 | $591 | $670 | $749 | $985 | $1,158 |
| 60 in | NA | NA | $556 | $643 | $731 | $818 | $1,080 | $1,272 |
| 66 in | NA | NA | NA | $695 | $791 | $887 | $1,175 | $1,387 |
| 72 in | NA | NA | NA | $747 | $852 | $957 | $1,271 | $1,502 |
Cedar Sign Blanks--2" Thick
| | | | | | | | | |
| --- | --- | --- | --- | --- | --- | --- | --- | --- |
| 2.0" | 35" | 47" | 59" | 71" | 83" | 95" | 119" | 143" |
| 22 in | $97 | $130 | $163 | $196 | $229 | $262 | NA | NA |
| 24 in | $112 | $151 | $189 | $228 | $266 | $304 | NA | NA |
| 27 in | $126 | $170 | $213 | $256 | $299 | $342 | NA | NA |
| 30 in | $140 | $188 | $236 | $284 | $332 | $380 | NA | NA |
| 33 in | $154 | $207 | $260 | $313 | $366 | $418 | NA | NA |
| 36 in | $168 | $226 | $284 | $341 | $399 | $456 | NA | NA |
| 39 in | NA | $255 | $320 | $385 | $450 | $515 | NA | NA |
| 42 in | NA | $275 | $345 | $415 | $485 | $555 | NA | NA |
| 45 in | NA | $294 | $369 | $444 | $519 | $594 | NA | NA |
| 48 in | NA | $314 | $394 | $474 | $554 | $634 | NA | NA |
| 54 in | NA | NA | $568 | $658 | $748 | $838 | NA | NA |
| 60 in | NA | NA | $617 | $717 | $817 | $917 | NA | NA |
| 66 in | NA | NA | NA | $776 | $886 | $996 | NA | NA |
| 72 in | NA | NA | NA | $835 | $955 | $1,075 | NA | NA |
Cedar Sign Blanks--3" Thick
| | | | | | | | | |
| --- | --- | --- | --- | --- | --- | --- | --- | --- |
| 3.0" | 35" | 47" | 59" | 71" | 83" | 95" | 119" | 143" |
| 22 in | $169 | $227 | $284 | $342 | $400 | $458 | $700 | $842 |
| 24 in | $196 | $264 | $331 | $398 | $465 | $532 | $764 | $918 |
| 27 in | $221 | $297 | $372 | $448 | $523 | $599 | $860 | $1,033 |
| 30 in | $245 | $329 | $413 | $497 | $581 | $665 | $955 | $1,147 |
| 33 in | $270 | $362 | $455 | $547 | $640 | $732 | $1,050 | $1,262 |
| 36 in | $294 | $395 | $496 | $597 | $698 | $798 | $1,146 | $1,377 |
| 39 in | NA | $446 | $560 | $674 | $787 | $901 | $1,241 | $1,492 |
| 42 in | NA | $480 | $603 | $725 | $848 | $970 | $1,337 | $1,606 |
| 45 in | NA | $515 | $646 | $777 | $908 | $1,040 | $1,432 | $1,721 |
| 48 in | NA | $549 | $689 | $829 | $969 | $1,109 | $1,528 | $1,836 |
| 54 in | NA | NA | $900 | $1,057 | $1,215 | $1,372 | $1,844 | $2,190 |
| 60 in | NA | NA | $986 | $1,161 | $1,336 | $1,511 | $2,034 | $2,419 |
| 66 in | NA | NA | NA | $1,264 | $1,457 | $1,649 | $2,225 | $2,649 |
| 72 in | NA | NA | NA | $1,368 | $1,578 | $1,788 | $2,416 | $2,878 |