Mahogany Perfect Plank is a preferred species for bar tops, restaurant tables, and in some kitchens. Manufactured from South American Mahogany, it is made by finger-jointing 10" to 24" pieces of clear wood into strips of the desired length. The strips (1.3 to 1.8" wide) are then glued face-to-face to form an edge-grain Butcher Block product.
Perfect Plank is laminated with water resistant urea resin glue. One face is of furniture quality, sanded with 120 grit paper. Reverse side may contain defects and is sanded with 80 grit paper.
Available in a wide variety of standard sizes in thicknesses of 1 3/8" and 1 7/8". Also available in custom sizes in thicknesses of 3/4", 7/8", 2 3/8" and 2 7/8".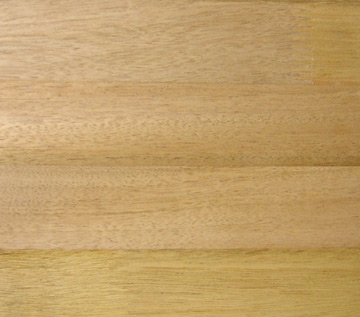 Mahogany Perfect Plank
Mahogany Perfect Plank--1 3/8" Thick
| | | | | | | | | | | | |
| --- | --- | --- | --- | --- | --- | --- | --- | --- | --- | --- | --- |
| | 2 ft | 30" | 3 ft | 4 ft | 5 ft | 6 ft | 8 ft | 10ft | 12 ft | 14ft | 16ft |
| 12" | $36 | $45 | $60 | $72 | $90 | $108 | $144 | $195 | $234 | NA | NA |
| 17" | $55 | $66 | $77 | $99 | $132 | $154 | $198 | $276 | $324 | NA | NA |
| 24" | $72 | $84 | $108 | $144 | $180 | $216 | $288 | $390 | $468 | NA | NA |
| 25" | $84 | $96 | $120 | $156 | $192 | $228 | $300 | $416 | $494 | NA | NA |
| 30" | $90 | $120 | $144 | $180 | $228 | $276 | $360 | $494 | $585 | NA | NA |
| 33" | $96 | $132 | $156 | $204 | $252 | $300 | $396 | $533 | $650 | NA | NA |
| 36" | $108 | $144 | $168 | $216 | $276 | $324 | $432 | $585 | $702 | NA | NA |
| 39" | | | | $240 | $300 | $360 | $468 | $637 | $767 | NA | NA |
| 42" | | | | $252 | $324 | $384 | $504 | $689 | $819 | NA | NA |
| 45" | | | | $276 | $336 | $408 | $540 | $728 | $871 | NA | NA |
| 48" | | | | $288 | $360 | $432 | $576 | $780 | $936 | NA | NA |
| 51" | | | | | $400 | $476 | $632 | $852 | $1008 | NA | NA |
Mahogany Perfect Plank--1 7/8" Thick
| | | | | | | | | | | | |
| --- | --- | --- | --- | --- | --- | --- | --- | --- | --- | --- | --- |
| | 2 ft | 30" | 3 ft | 4 ft | 5 ft | 6 ft | 8 ft | 10 ft | 12 ft | 14ft | 16ft |
| 12" | $48 | $60 | $72 | $96 | $120 | $144 | $192 | $260 | $312 | NA | NA |
| 17" | $66 | $88 | $99 | $132 | $165 | $198 | $264 | $360 | $432 | NA | NA |
| 24" | $96 | $120 | $144 | $192 | $240 | $288 | $384 | $520 | $624 | NA | NA |
| 25" | $108 | $132 | $156 | $204 | $252 | $300 | $396 | $533 | $650 | NA | NA |
| 30" | $120 | $156 | $180 | $240 | $300 | $360 | $432 | $650 | $780 | NA | NA |
| 33" | $132 | $168 | $204 | $264 | $336 | $396 | $504 | $715 | $858 | NA | NA |
| 36" | $144 | $180 | $216 | $288 | $360 | $432 | $576 | $780 | $936 | NA | NA |
| 39" | | | | $312 | $396 | $468 | $624 | $845 | $1014 | NA | NA |
| 42" | | | | $336 | $420 | $504 | $672 | $910 | $1092 | NA | NA |
| 45" | | | | $360 | $456 | $540 | $720 | $975 | $1170 | NA | NA |
| 48" | | | | $384 | $480 | $576 | $768 | $1040 | $1248 | NA | NA |
| 54" | | | | | $615 | $723 | $939 | $1245 | $1479 | NA | NA |
| 60" | | | | | $700 | $820 | $1060 | $1400 | $1660 | NA | NA |
| 66" | | | | | | $917 | $1181 | $1555 | $1841 | NA | NA |
| 72" | | | | | | $1014 | $1302 | $1710 | $2022 | NA | NA |